Really there's nothing like a good cycling jersey. They're lightweight, wicking, have pockets on the back, and if you try you can find one that won't make you look like a member of Star Fleet. But sometimes you want to wear your favorite t-shirt. Throw on your messenger bag and you have a sweat bandolier and a soaking back. I got tired of it last year so I ordered 2 Timbuk2 accessory cases:
One holds a tube and the other holds CO2, tire levers, Surly Jethro Tool, tire boots, and a multitool. They easily strap around my belt and are small enough that I can leave them on all day and not notice. But they still leave me keeping my wallet and phone in my pockets.
Several people have asked about other options and I point them towards
Fabric Horse
who supplied us with some u-lock holsters and other merch for Memphis Downs 3. Their utility belts have enough pockets and an integrated u-lock holster for a day bike/hike.
That might be a little too much for some riders. Then sometime last week Corey sent me a link for
Transient Bags
. This seems to be the middle ground.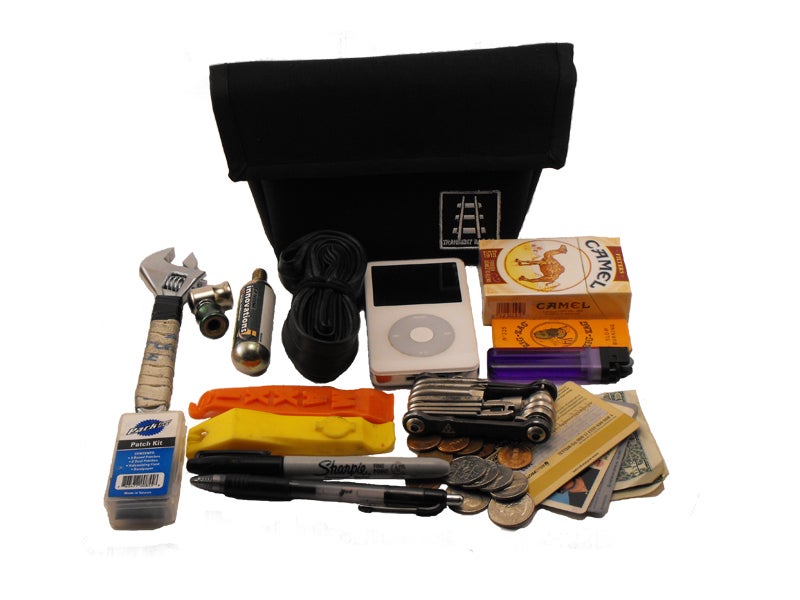 What's funny is that when you click on the pictures for the Mini, all of the flat fix stuff disappears and you're left with iPod, Blackberry, cigs, papers and lighter; you know, the important stuff(?)
In a related note, as I mashed a stop this morning my cog slid back a bit. My lockring caught it but it made me realize several things: suicide hubs are dangerous, front brakes are good (as I used mine for the rest of the commute), and the only tool I could have used that I don't have is a lock ring tool. So I ordered Pedro's Trixie Fixed Tool today.
Now I just have to fit that into a hip bag.